Elul
Elul 5779: Preparing for 5780 Together
The Hebrew month of Elul, the last month of the year before Rosh Hashanah, is a special time for us all to consider the ways we hope to grow and change in the coming new year. Please join us - virtually - in exploring some inspirational thoughts (we hope!) and words of Torah over the course of this month.
Every day of Elul, starting motzei shabbat, Saturday night 8/31, we will be disseminating brief texts *once* per day in a WhatsApp group (information for joining can be found below). Please note that this WhatsApp group will only allow Rabbi Antine and Rabbi Cooper to post (the group is not intended as a forum for conversation, as we want to be sensitive to how many notifications everyone gets on their phones!). That said, please feel free to start private chats, virtually or in person, with Rabbi Antine and Rabbi Cooper or with one another, to discuss some of the ideas shared.
We hope that this new initiative will play a small part in your preparations for the High Holidays.
שנה טובה/Shana Tovah!
Click here to join Beth Sholom's Elul WhatsApp Group*
*Note you will need to have installed WhatsApp on your phone in order to join the group. Click here to install Whatsapp. Please also note that if you join the group, your cell phone number will be visible to others. Joining a WhatsApp group does not conceal your cell phone number. Others in the group are able to view your contact information. If you would like to receive this daily messages in a forum that will conceal your number, please feel free to leave this WhatsApp group and join our alternative Telegram group instead by clicking here (note you will have to download the Telegram app and sign up for an account - see here). We will post the same messages in Telegram as we will in WhatsApp.
Please reach out to Rabbi Cooper (rabbicooper@bethsholom.org) if you have any questions.
Posts to Date:
Elul 29 5779
The last post before Rosh Hashanah? What is there left to say other than "Shanah tovah!" There are so many different ways that I've seen people spell Shana Tova- I'm not sure which one is right but I wonder if in some odd way this simply reflects the diversity of the Jewish community. We are such a small people but there are so many different types of Jews. Let's try to spend 5780 embracing as many different types of Jews as we can. Let it be a year of happiness, health, growth, and unity!
-Rabbi Cooper
Elul 28 5779
There is a custom on Rosh Hashanah to wear new clothing so that we can make the shehechiyanu Bracha. So I ordered a bunch of new things on Thursday on Amazon, including a white kippah. Who knew you could get a kippah with amazon prime?? Everything arrived today just as promised, less than 48 hours later. We live in an unprecedented time in human history in which things can be at our doorstep at the tap of a button. It took me almost no effort to order my new kippah and clothes. It's really quite a blessing. Of course all of this "instant gratification" has a potential downside as well. We can grow to be impatient when things don't happen quickly. With only one day left until Rosh Hashanah, with so much left to do before the new year and so little time remaining, we may feel unprepared or simply out of time (spiritually and/or logistically). It's important to remember through all of this to remain patient with ourselves. We are only human. We are not amazon prime!
-Rabbi Cooper
Elul 27 5779
I once heard that when we turn around and bow at the end of the באי כלה stanza of Lecha Dodi, we aren't bowing to the Queen, but rather to our week. To our accomplishments, our failures, our moments of joy, and moments of sadness. To all of this, we bow- respectfully- saying goodbye to the week that was. When we turn back around, we are turning towards shabbat and the peace that it brings- turning our backs to the week and putting it, literally, behind us.
This shabbat, the last shabbat of the Jewish year, I will not only bow to my week, but will bow to my year. My successes- my failures- my moments of joy- my moments of sadness. It has been an eventful year... for me, for the Jewish people, and for humanity. When I turn around tonight, I will leave it all behind- turning away from 5779, and into 5780.
Turning around tonight will not be easy... there are so many things I want to hold onto, to remember, to fix, to relive from this past year. And I don't know what I turn towards. What does this year have in store for me, for the Jewish people, and for humanity?
Tonight, as I bid farewell to this year, I will linger for just a few moments longer... before I bow, respectfully, to 5779 and turn towards 5780.
-Rabbi Cooper
Elul 26 5779
Everyone loves a good Tekiah Gedola! I often catch kids (and adults!) counting how long it lasts for! But the question is why do we do it? Most people probably assume that there is some deep mystical reason for it. But it turns out that it had a very practical purpose. The tekiah gedola (or long blast) is supposed to indicate that the section of blasts is over. This would have been even more important when not everyone had their own machzor. Sometimes I like a practical reason but in this case, I think the practical also points to a bigger spiritual message. We have 100 blasts. It's a long journey. But the long tekias at the end of each section of blasts remind us that we don't have to do it all at once. We can divide our work into sections with perhaps an extra long effort at the end of the section. Then take a break and move to next section. I hope this helps with our spiritual journeys this Rosh hashana.
-Rabbi Antine
Elul 25 5779
It has become a custom for many people before Yom Kippur to ask all of their friends for "mechilah" (forgiveness) for all of the bad things they may have done to them. The challenge with this, according to the Pninei Halacha (R' Eliezer Melamed) is that this form of asking for forgiveness is ultimately self-serving and empty. When asking for forgiveness in this way, we do not actually address our wrongdoings but are rather trying to clear our conscience. Moreover, simply asking for "forgiveness" is too vague to be effective.
A compelling alternative involves creating a "chesbon hanefesh" (literally, an accounting of the soul) in which we seriously consider the ways in which we have harmed those around us, and make sure to ask those people, specifically, for forgiveness for a specific wrongdoing (unless of course our asking for forgiveness may in itself bring to light something another person didn't even know about- such as gossip- in which case, we should not risk hurting them further).
Elul is an ideal time to create this "chesbon hanefesh" so that we can be fully prepared prior to Yom Kippur. It's worth considering specifically how, who, what, and why we have wronged those with whom we interacted in 5779.
-Rabbi Cooper
Elul 24 5779
We have been spending a lot of time beating our chests in shul lately now that selichot has begun. It is traditional to take our fists and hit our chest during the "ashamnu bagadnu" confession prayer. Why do we do this? One perhaps intuitive understanding is that we are punishing ourselves for the bad that we have done. In beating our chest we are expressing our guilt, remorse, and sadness over our wrongdoings.
But perhaps we can approach it a different way. Maybe beating our chests can be a reminder that deep down, in our hearts, we are good and we are capable. We have it in ourselves to improve and to do better this coming year- and beating our chest helps reinforce that.
This approach reminds me of athletes who often beat their chests during victory and celebration or simply moments "pumping up" during a game. Beating our chests during selichot can maybe serve the same purpose.
Of course any time there are two sides of the same coin, it's likely the case that both approaches hold some truth. We should still hold on to the first, more traditional approach for beating our chests. But maybe this shouldn't be all we think about.
Have a great day!
-Rabbi Cooper
Elul 23 5779
I am a huge baseball fan and over the last six months, in addition to following the Yankees, I played fantasy baseball. For those who aren't familiar, fantasy baseball involves choosing baseball players to be on your team- and based on how well they perform, your team can win or lose.
The fantasy baseball league became a hobby of mine over the last few months, and I'm pleased to report that last night I won the championship!
Why am I telling you this? And what does it have to do with Elul? It has been a very busy six months for me and my family. Between having a second child, graduating rabbinical school, moving to Maryland and starting new jobs, fantasy baseball has been the perfect escape for me from the stress and challenges that life has thrown my way. Even if I hadn't won the competition, I still would have accomplished my goal: to find a healthy escape.
Sometimes we all need healthy escapes in order to return to life fully charged and ready to meet whatever comes our way. The same is true in Elul. Even as we make our way through the teshuvah process, we must sometimes pause and remember that we are only human- and sometimes we need to find outlets or hobbies that help us focus on things that may seem totally mundane.
-Rabbi Cooper
Elul 22 5779
Today was a very special day for me and my family as we got to celebrate my grandmother's 80th birthday. We all gathered together in West Orange New Jersey for a party and a tribute. My grandmother, who is generally in great health, was sick a few weeks ago and we were unsure whether she would be well enough to be present at the party today. Thank G-d everything worked out!!
The high holidays are not only a time for introspection and focusing on the self, but also a time for gathering together with those we love. Of course there are some people who sadly have very few friends or family with whom they can observe the holidays. And some of us may have lost loved ones or friends since last Rosh Hashanah. Or perhaps we have had health scares or are currently battling an illness.
This Elul, let's try to focus on reaching out to those who are closest to us, being sure we acknowledge how important it is to have them in our life.
-Rabbi Cooper
Elul 21 5779
Music has such a power to inspire us during Elul and Tishrei. We sing unique tunes that have been part of our tradition for centuries and are only sung during this time of year.
Tonight, during selichot, as we sung some of these tunes, it felt as though i was being reunited with old friends that I haven't seen in a year. These "friends" have the ability to move me and hold my feelings in ways no one else can. I know I'll have to part ways with them when the high holidays are over. But for the time being i feel so blessed to be able to connect to Hashem and to those around me through the holiness of our melodies.
-Rabbi Cooper
Elul 20 5779
Tomorrow night begins selichot for ashkenazim, as 5779 soon comes to a close and the intensity of this holy
time increases with each passing day. Reading through the selichot one feels a sense of guilt and shame. We say ראה עמידתינו דלים ורקים- see, Hashem, how lowly and empty we are as we stand before you.
Of course, there are two sides to every coin. While we should try to tap into the feelings associated with selichot, we should also bask in the glory of these days- they are both high and holy! Shabbat in particular is a time for us to savor every moment and feel a sense of peace and wholeness (which is why we don't say selichot on Shabbat).
Wishing everyone a Shabbat shalom!
-Rabbi Cooper
Elul 19 5779
Tonight I would like to try a writing prompt from the Rosh Hashana prayer of Unetaneh Tokef. We say that on Rosh Hashana all creatures pass before G-d, like sheep. When I think about sheep, I think of an animal that is totally powerless and vulnerable, completely relying on the shepherd for protection. Question: We usually pride ourselves on being strong. We value people who are able to fight through hardship. Yet on Rosh Hashana, we compare ourselves to vulnerable sheep. So the questions is, what are some times in the past year (or maybe in your life) that you have benefitted from allowing yourself to be vulnerable; either with other people or with G-d? How has accessing that vulnerable part of yourself made you better? I plan on writing on this question as part of my Elul writing practice. Maybe some of your will do the same. Have a great night!
-Rabbi Antine
Elul 18 5779
I've been thinking all day about a conversation I had with my 2.5 year old son Noam this morning. While we were walking to school he told me that he saw the moon in the sky. As we have been trying to teach him about day and night- that the sun is up during the day and the moon is up at night- my initial inclination was to tell my son that he got it wrong. That it's the daytime and there is no way he saw the moon.
But as I looked up at the sky, I saw that indeed my son was right and I was wrong. The moon was plainly visible. As I realized later in the day, it's actually very logical that we see the moon during the day at this time of the month, as the moon is most easily visible in daylight right before and right after a full moon (we are currently right after a full moon, with Rosh Hashanah less than two weeks away)
This experience made me think more deeply about Elul and the teshuvah process on two levels:
1. We sometimes jump to conclusions without pausing to think them through (as I did when I considered what my son had said) In so doing, we remain close minded, which can stunt our growth as people
2. We should be open to the fact that we are often, sometimes very often, just plain wrong (as I was about the moon today). Our willingness to admit this can help promote our growth as people.
Teshuvah is all about growing as people, and it took my son looking up at the sky today to help remind me some important lessons in that regard!
-Rabbi Cooper
Elul 17 5779
Today was Election Day in Israel! Votes are still being counted now, and we will know the result by tomorrow morning hopefully.
The last (and I believe only) time an Israeli election was held in Elul was 1961, if I'm
not mistaken.
The contrast between Elul and elections is an exciting one. There's something inspiring and also challenging about so much "new" happening at once. A new Jewish year. A new academic year. And a new Israeli government. I'm sure we can all think of new things or situations we are currently or soon will be encountering.
Newness comes with challenges, as well as an inevitable period of acclimation. It's not always easy to embrace what is new, and sometimes, we feel the need to reject it (this is what happened in the last Israeli elections only a few months ago!)
May this new year be one where we embrace the excitement and opportunities that come with newness
-Rabbi Cooper
Elul 16 5779
For the last couple of days I have been "solo parenting" our 2.5 year old and our 6 month old, as my wife Dita is away at a school trip with the Berman Hebrew Academy.
While I've managed OK, it's definitely been much much harder than co-parenting! Doing things by yourself, most of the time, is harder than in partnership with someone.
The same is true for teshuvah. We are in partnership with G-d and with one another in this process of self-improvement. Even if we could theoretically get this job done "solo," it is much easier when we reach out for help. (Relatedly this is one of the reasons why our viduy/confession prayers are in the plural- because we don't only stand for ourselves on Yom Kippur, but rather we stand together as a community in partnership)
As we continue through Elul (past the halfway point) it's worth considering the ways in which we can help others and be helped by others in the teshuvah process.
Photograph: me solo parenting yesterday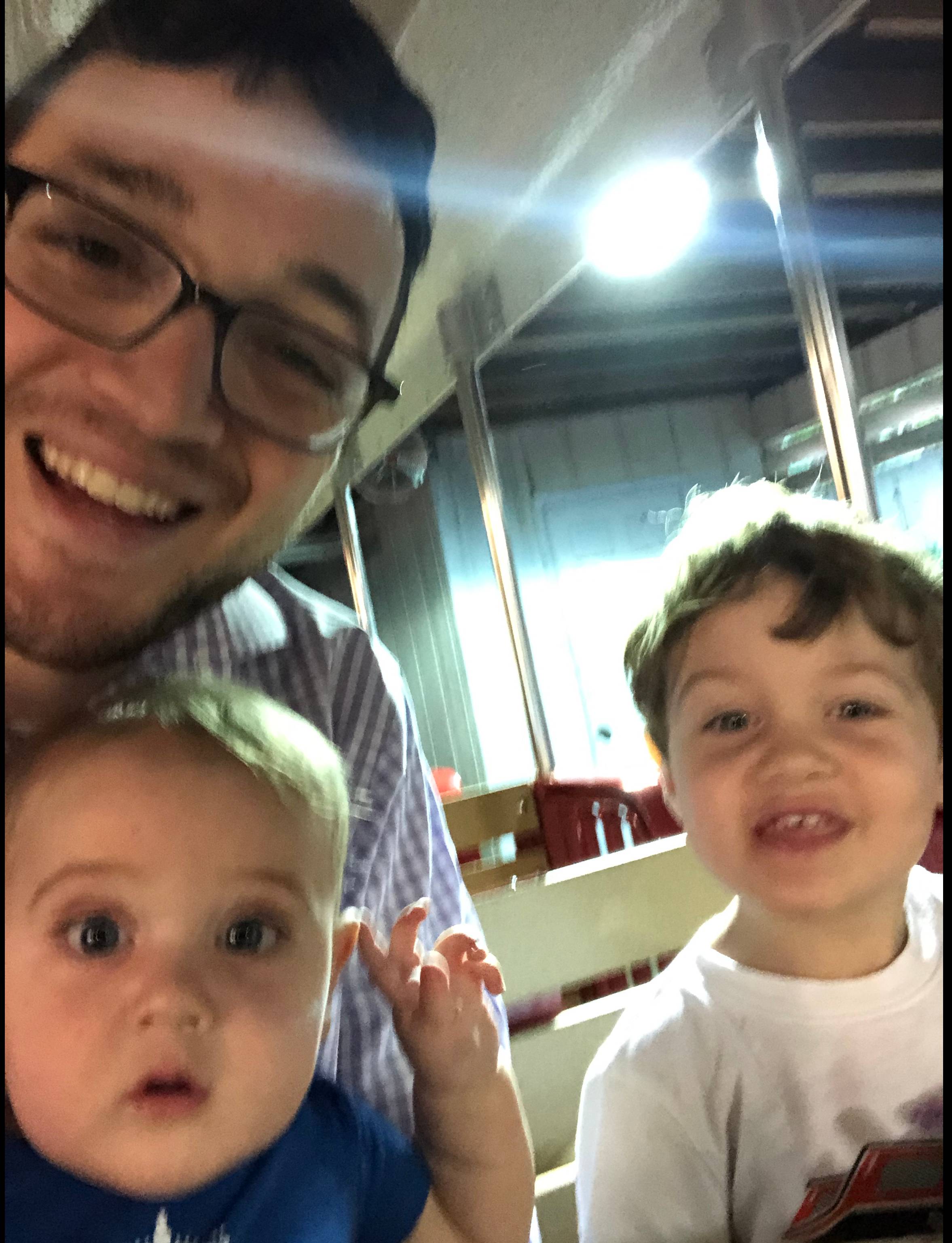 -Rabbi Cooper
Elul 15 5779
My teacher Rabbi Avi Weiss argues in this beautiful article (see link below) that our Yom Kippur tefilot should not only have a confession of our wrongdoings but also a confession of the positive things we have done in the past year. He penned a special prayer, also using the alef, bet acrostic ( as we have in our classic prayer, "Ashamnu, Bagadnu") and titled it "ahavnu, berachnu" (we have loved, we have blessed). In the article he encourages everyone to write their own "positive confession" and include it in our Yom Kippur tefilot.
It's an inspiring and bold suggestion that I hope to incorporate into my prayers this year! You can read the article here.
-Rabbi Cooper
Elul 14 5779
A verse in the parsha we will read tomorrow (devarim 23:22) says:
כִּֽי־תִדֹּ֥ר נֶ֙דֶר֙ לַיהוָ֣ה אֱלֹהֶ֔יךָ לֹ֥א תְאַחֵ֖ר לְשַׁלְּמ֑וֹ כִּֽי־דָּרֹ֨שׁ יִדְרְשֶׁ֜נּוּ יְהוָ֤ה אֱלֹהֶ֙יךָ֙ מֵֽעִמָּ֔ךְ וְהָיָ֥ה בְךָ֖ חֵֽטְא׃
When you make a vow to the LORD your God, do not put off fulfilling it, for the LORD your God will require it of you, and you will have incurred guilt.
Sforno comments that we all make promises in life, and while we should try our best to uphold them, we should never procrastinate on delivering on the promises we make to Hashem. We cannot delay fulfilling the responsibilities we take upon ourselves. This is certainly a lesson to keep in mind during Elul: we will all make promises to ourselves and to Hashem for the coming year. Let's be sure we can keep them and fulfill them on time without delay!
Shabbat shalom!!
-Rabbi Cooper
Elul 13 5779
When I was ordained a few months ago, I was also given a shofar. I've been spending time practicing, attempting to develop a new skill. I've been trying a bit each day- but I definitely need to improve. I'm still not ready to blow shofar in front of a large group of people, as it's not perfect. Nevertheless I'm going to share this video with you of me practicing- even though I feel I'm not totally "there" yet. I think there are two messages here:
1. First: Part of the teshuvah process, I believe, is opening up and feeling a bit more vulnerable than we are used to feeling. So I share this video with you, even though I still feel insecure about my shofar blowing.
2. Second: practice never makes perfect- as nothing is perfect! The same is true with teshuvah. We can try our best to return to Hashem, but we will never do it perfectly. Hashem will accept us nonetheless.
-Rabbi Cooper
Elul 12 5779
The mitzvah of Tashlich, where we visit a body of water and say special prayers as part of our teshuvah process, may be performed from the first day of Rosh Hashanah until Hoshana Rabbah (the 7th day of Sukkot). In other words- there is a lot of time to complete this mitzvah! One message to consider, perhaps, is that teshuvah is so precious, such a gift, that we want to hold onto it for as long as possible. At the same time, these weeks will fly by- and we will be at Hoshana Rabbah, our "last stop" in the teshuvah journey, before we know it. In some ways it feels similar to a child (or adult!) at overnight camp. Each day is so precious, and the whole experience flies by. Let's try to be cognizant of this as we proceed through Elul. Every day of this High Holiday season is a gift- let's try to make the most of it!
-Rabbi Cooper
Elul 11 5779
Today is the 11'th of Elul and it is also the 18th anniversary of 9/11. This morning in shul, we lit a memorial candle and recited a Kel Maleh in memory of the victims. Followed by shofar blowing. For so many of us, the memory of 9/11 is so tied into Rosh Hashana and the shofar which came a short time later. Who could forget the power of Unetaneh Tokef that year when we davened "who by fire and who by water" "who in the right time and who not in the right time". 9/11 changed us all in many ways in terms of security and many other issues. Perhaps today as we take a moment to remember the victims, let's also reflect on whether the events of 9/11 changed us as spiritual beings and as Jews. May Hashem bring comfort to the victims families. I am sure this is a difficult day for all of them. They are in our thoughts today.
-Rabbi Antine
Elul 10 5779
Another post about the letters that spell Elul: We have been saying L'david (psalm 27) each day in shul. The second to last verse saysלולא הֶ֭אֱמַנְתִּי לִרְא֥וֹת בְּֽטוּב־יְהוָ֗ה בְּאֶ֣רֶץ חַיִּֽים׃
"Had I not the assurance that I would enjoy the goodness of the LORD in the land of the living…"
The word "לולא", which means "had I not" is Elul spelled backwards. There are many moments during the teshuvah process in which we will tell ourselves "had I not"...that we should have or could have done something better. The inclination to feel guilt and regret is strong. But maybe this isn't the right approach. Perhaps part of teshuvah, part of the month of Elul is accepting who we are even with our limitations. By reversing this inclination to feel too much guilt within ourselves- reversing the "had I not," the "לולא"- we can fully and genuinely enter Elul.
There is a great song by the group Lev Tahor with the words to this verse- listen here: https://youtu.be/0Rr66vgnPXw
–Rabbi Cooper
Elul 9 5779
On this day, the 9th of Elul, in the Hebrew year 5027 (752 years ago today on the Jewish calendar) the Ramban (Nachmanides) arrived in Jerusalem at the age of 73. The city he encountered was desolate and nearly empty. There was barely a minyan available for davening. The situation distressed him and he worked tirelessly to rebuild the city. Among other things, he established a synagogue (which still exists to this day, in the Old City).
Ultimately there was a consistent Jewish presence in the old city of Jerusalem from the time Ramban arrived until 1948. He is credited with rejuvenating Jerusalem in the 13th century almost single handedly.
I wonder what it was like for Ramban to arrive in Jerusalem during Elul, only a few weeks before Rosh Hashanah 5028. I imagine it took a lot of work to muster up the spiritual energy to connect to davening that year- in a destroyed Jerusalem without many people present to daven. I'm sure it took some degree of hope and optimism. I'd like to try and channel some of that hope and optimism into Elul this year. I'll be thinking about the Ramban tomorrow!
To learn more see this helpful article.
-Rabbi Cooper
Elul 8 5779
One of the central components of teshuvah, according to the Rambam, is a verbal confession of our wrongdoings (see hilchot teshuvah 1:1). It's not enough to merely think about what we did wrong or say things that sound generic. If we do not confess verbally and specify the things we did wrong, we have not fully done teshuvah.
One potential implication of this teaching is that we should spend time in advance of Yom Kippur enumerating our sins so that we can be prepared to offer a genuine, verbal confession on Yom Kippur. The last few years I have kept a notebook during elul with a running list of some of the mistakes and wrongdoings I would like to do teshuvah for. I bring this list with me to my davening and say the things I have written as part of my viduy (confession). As we proceed through Elul, it's worth not only considering the ways we feel closer to G-d and the holiness of this time period- but also how we can properly and effectively confess and do teshuva.
-Rabbi Cooper
Elul 7 5779
It's been really wonderful hearing the shofar every morning after davening. There are many understandings of why we blow the shofar during Elul, but one that resonates for me is that it is a wake up call. Each morning when we hear the shofar, it reminds us of the importance of this month, and the need to focus on teshuvah. The piercing sound of the shofar helps to awaken us to the task at hand! I will miss hearing the shofar this Shabbat (every once in a while I suppose it's good to turn off our alarm clocks for a day). I look forward to hearing it again on Sunday morning. Here is a recording of shofar blowing this morning- for those who were unable to be at davening. Shabbat shalom to everyone!!
-Rabbi Cooper
Elul 6 5779
This morning I was reading the introduction to Rav Kook's Orot Hateshuva. One line, about the connection between Teshuva and Hope, jumped out at me. Rav Kook says, "All hope, individual and communal, is built on Teshuva."
This really fits into Rav Kook's larger theme that Teshuva is not just something we do once a year (during the High Holidays). It is actually a way of life for the whole year. It is the idea that gives us hope when we face challenges. It enables us to see new possibilities and hopes for the future whether in our personal or communal lives. This tells me that we should not look at Teshuva through the feeling of dread of Unetaneh Tokef but also through the prism of joy of new possibilities to accomplish new goals for the coming year!
-Rabbi Antine
Elul 5 5779
For tonight something a bit different: In recent years the "Elul niggun" has become more and more popular. That's right- this month has a tune named after it (not sure any other month has that distinction!). Elul is a time for introspection and contemplation but also a time for singing and spiritual expression! You can listen to the song in the link below.
-Rabbi Cooper
Elul 4 5779
A teaching attributed to Rabbi Shneur Zalman of Liady, the founder of Chabad, states that "The King is in the Field" (המלך בשדה) during Elul. That is to say, Elul is a time in which we can encounter the divine more easily. As opposed to being unreachable or far away in the heavens, Hashem is more accessible, down here with the people.
It's a strange concept- as one might assume that G-d is always accessible- always in the field. Perhaps, though, it's all about our attitude. G-d may always be "in the field," but Elul is a time when we feel more empowered and able to look around, looking up from our day to day existence in "the field," and find G-d in our lives.
Alternatively, R' Jeff Fox (Rosh Yeshiva at Maharat) suggests that the King being in the Field during Elul implies that G-d returns to a castle when Elul is over. Once Tishrei and Rosh Hashanah begin, Hashem retreats back to a more inaccessible place. How can we harness the power of increased closeness with G-d, knowing that this time period is limited to this month only?
-Rabbi Cooper
Elul 3 5779
So we have been saying לדוד (ledovid - psalm 27) since the start of Elul. I am always amazed at how lines from that Psalm jump out at me. Today I was struck by this line:
לך אמר לבי בקשו פני. את פניך ד׳ אבקש.
For You my heart has said "seek my Presence". Your Presence, Hashem, do I seek
It's as if our hearts are acting as agents for G-d and they are stirring us to seek out G-d!
I think a lot of life is a struggle between our heart and brain. Our brain often times gives us rational reasons why we can't do something. Why we can't connect to G-d or to others or to do some radical act of kindness. But it's our heart which is often the emissary of G-d. Maybe during Elul we should try to listen to it a bit more and do spiritual things we wouldn't orherwise do. Things that logic tells us won't work. The brain is important but let's not forget the heart!
-Rabbi Antine
Elul 2 5779
A verse in B'midbar 30:3 says, "אִישׁ כִּי־יִדֹּר נֶדֶר לַיהוָה אוֹ־הִשָּׁבַע שְׁבֻעָה לֶאְסֹר אִסָּר עַל־נַפְשׁוֹ לֹא יַחֵל דְּבָרוֹ כְּכָל־הַיֹּצֵא מִפִּיו יַעֲשֶׂה׃" (If a man makes a vow to the LORD or takes an oath imposing an obligation on himself, he shall not break his pledge; he must carry out all that has crossed his lips.) As noted by our friend and college Rabbi Dan Margulies, the last letters in the words לֹא יַחֵל דְּבָרוֹ כְּכָל from this verse spell out the word Elul.
We have made many promises to ourselves and to others over the course of the last year. It's possible we have broken some if not many of these promises. As we embark on the long process of teshuvah, let's try our best to set goals and make promises that we can keep!
-Rabbi Cooper
Elul 1 5779
Tonight marks the first day of Elul. As we begin thinking about the new year, perhaps there is no better place to start than the name Elul itself. Many have noted that the letters that spell Elul in Hebrew are an acronym for the verse from Shir HaShirim (6:3) "אני לדודי ודודי לי" - "Ani L'dodi V'Dodi Li" ("I am my beloved's and my beloved is mine"). Framing Elul in this way - with love - helps remind us that no matter how we feel about the past year- whatever highs and lows we may have had in our relationships with one another and with G-d - we are still bound together in love. A first step in the process of teshuvah (return/repentance) and self improvement, perhaps, is to recognize and embrace the loving relationships that exist in our lives.
-Rabbi Cooper
Thu, April 15 2021
3 Iyyar 5781
Subscribe to our Email List:
Today's Sefirah Count Is 18
היום שמונה עשר יום שהם שני שבועות וארבעה ימים לעמר
Today's Calendar
Daf Yomi (on zoom)

: 7:30a
Women's Torah Learning Class

: 12:45p
---
This week's Torah portion is

Parshat Tazria-Metzora
Candle Lighting
Havdalah
Motzei Shabbat, Apr 17, 8:29p
Yom Ha'Atzmaut
View Calendar
Alot Hashachar
5:08a
Earliest Tallit
5:42a
Netz (Sunrise)
6:32a
Latest Shema
9:50a
Zman Tefillah
10:57a
Shkiah (Sunset)
7:46p
Tzeit Hakochavim
8:27p
More >>
Support Us through Amazon Smile!
Support Beth Sholom through Amazon Smile! Select Beth Sholom Congregation and Talmud Torah as your Charity selection. Every purchase made through Amazon Smile directly supports our Shul!

Today's Sefirah Count Is 18
היום שמונה עשר יום שהם שני שבועות וארבעה ימים לעמר
Today's Calendar
Daf Yomi (on zoom)

: 7:30a
Women's Torah Learning Class

: 12:45p
---
Upcoming Programs & Events
---
View Calendar
Thu, April 15 2021 3 Iyyar 5781